Are you concerned about the quality of your drinking water?
With Culligan bottled water, you are in control of giving your people cleaner, better, and most importantly, safer drinking water. Call us now to get more information.
Culligan home water delivery service for your drinking water cooler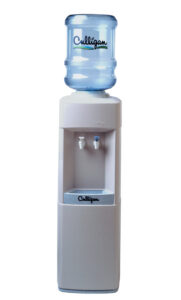 Bottled Water Delivery is a convenient way of getting better tasting water without the hassle. If you want great-tasting water but are spending too much time and money on trips to the store for single serve water bottles, Culligan bottled water delivery service can eliminate the work and bring better drinking water directly to you door.
Your Culligan Man is an expert in water bottle delivery. He has the knowledge to create a custom water delivery solution for you so that you will always have quality drinking water available. Not only will you experience the convenience of better drinking water from a Culligan water cooler, you can also enjoy the optional multiple temperature controls containing cold, room-temperature and hot water at the touch of a button. Culligan Water Bottle Delivery also helps the environment by saving hundreds of single serve water bottles from ending up in the landfill.
How Culligan Bottled Water Delivery Works
Contact your local Culligan Man. Your Culligan Man, a local bottled water delivery expert, will be able to set up your first time water delivery and suggest a bottled water delivery schedule that works for you and your drinking water use.

 One-time Installation. Your Culligan Man will install your water cooler and set up your bottled water. He will also show you how system works and answer any questions you have.

Enjoy Endless Culligan Water. Your Culligan Man will provide water delivery service based on your drinking water needs. Once your water bottles are empty, your Culligan Man will exchange them for full water bottles on your designated delivery day. Now you can sit back, relax and enjoy refreshing Culligan water with the ease of bottled water delivery.